nomadic artist-in-residence

Nomad artist-in-residence program focuses on the notion of hospitality and the social relations between "host" and "guest" para-siting the infrastructure of other institutions.
Aristides Santana
June 2015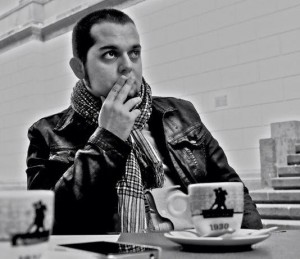 ARISTIDES SANTANA
1987 born in Las Palmas de Gran Canaria / lives and works in Berlin
Artist, Curator & Gallerist
MA in Art, Territory & Landscape by Universidad de La Laguna, Spain.
Scholarship in Hochschule für Bildende Künste Braunschweig, Germany.
Diplom in Arts by Universidad de La Laguna, Spain.
Santana was guest curator between 2012-2014 in TEA – Tenerife Espacio de las Artes, Spain, and publisher in 2012-2013 for CAAM – Centro Atlántico de Arte Moderno, Spain.
He curated the Project Rooms for the fair MIA – Milan Image Art on 2014 and 2015.
Since 2016 he is the founder of the association Açhes Curators with Omar-Pascual Castillo, developing curatorial projects in the worldwide and directing their own gallery, Nova Invaliden Galerie, in Berlin after the refoundation of Invaliden1 Galerie, which was working for the last ten years in the german capital.
http://surwey.blogspot.com.es/