nomadic artist-in-residence

Nomad artist-in-residence program focuses on the notion of hospitality and the social relations between "host" and "guest" para-siting the infrastructure of other institutions.
Panki
May 2014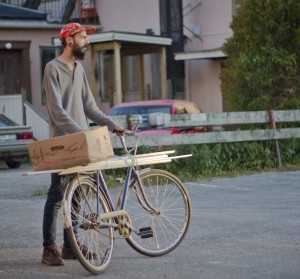 MIGUEL ÁNGEL RODRIGUEZ ( Tenerife 1980)
He retains his nickname "Panki" from the late  ́90 ́s, of time when the Skateboard, Hard Core Punk / Queer Core and aesthetic related to these movements took up most of his creative time, starting to work on graphic design, illustration, tattoo and as a musician in the bands "The Merrys" and "Pollution" with which performs some European tours until 2006.
At that year he began his studies in Fine Arts at the Universidad de La Laguna, continuing at the Universidad de Salamanca and ending it at the Universidad Politécnica de Valencia during 2012. Since then he experiments by mixing from a diversity of languages as the objects manipulation, drawing, video­art, performance and the sound involved into creative process where the leeway has become into a searching device as relevant as the final product of his work.
During his career he has been published by several punk recording labels in Spain and Latin America, collaborated with independent zines and cultural agendas and more recently he becomes closer to more specific art spaces, been published his soundscape "We Work For Us" by LEA editorial [lea008] during 2013, making body ­performances during the artist residence Tomma Rum in Sweden 2014, and during 2015 releasing his perfo­petry duo project at NumaCircuit015 in Tenerife and Barcelona, as well his video "Gammvolvon på botten av Falkträsket" selected by the biennial Fotonoviembre15 at TEA (Tenerife Space of Arts).