nomadic artist-in-residence

Nomad artist-in-residence program focuses on the notion of hospitality and the social relations between "host" and "guest" para-siting the infrastructure of other institutions.
Tea Zachova
april 2018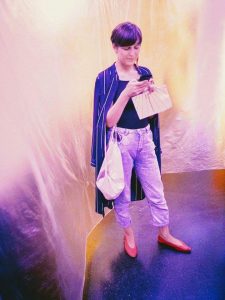 Based in the Prague, Brno and somewhere in between.
My curatorial projects are oriented towards artistic process, site-specific forms and inner intuition, and consider topics such as quantum physics, lights, ecology, food systems and participatory thinking: a combination of elements from ordinary life. I develop themes as we relate to speculation about the current or future state of our society. Nature of the relationship between language and the world is a long-debated philosophical problem, the combination of our current ecological crisis, our thoughts are active to build the future world. In the long-term, I have been mapping the Nordic countries because their approach and ideas are close to me. Ideally, they are a model for other countries, especially those post-communist ones, in terms of "better life". However, they also have to deal with global issues and perhaps because of their location and the proximity of nature, they reflect the problems more prominently.
I founded an alternative curatorial project in north of Czech Republic, called BUNKA. Nowadays I co-curate gallery 35 m2 in Prague and work on Nordic block for gallery Klubovna, Brno. I curated Basic research with Richard Loskot in Regional gallery in Liberec and I also curated Isotropic with Natalia Dominguez Rangel in House of Art in Brno, both in the Czech Republic or Towards inevitable with Leah Beeferman, Adela Korbickova and Ivan Svoboda in gallery Blunk in Trondheim (NO). I was resident fellow in Mustarinda in Finland and Museums Quartier in Vienna.