nomadic artist-in-residence

Nomad artist-in-residence program focuses on the notion of hospitality and the social relations between "host" and "guest" para-siting the infrastructure of other institutions.
Saejin Choi
november 2018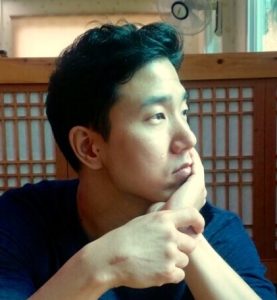 Saejin Choi
b. 1983, Seoul. currently living and working in Győr, Hungary.
Majored in Product Design (BFA) and Fine Art (MFA).
Main practices are aiming at ampli cation of ctitiousness of nancial economy through miscellaneous media including installation, printmaking, video, performance and nancial medium in an e ort to re-contextulize the global economy into more socially acceptable context.
Started application of alcoholic beverages as portraits and interactive metaphors of economic events and gures.
Started locally-engaged projects and participatory performances in relation to labor and industrial environment in South Korea since 2014.
Co-founder of Alterforum, a reseach group for participatory projects based in Glasgow(UK) in 2013.